If you're looking for a way to test out your DIY skills, your backyard is the perfect place to do it! You will have plenty of space to work, but you also won't have to worry about making a mess or disturbing your neighbors. The area will be free from the indoors' constraints and fragile household items, ensuring freedom for your movement.
However, it will be necessary to stay responsible when performing DIY projects. Inexperience can often lead to accidents, so take all the required safety precautions before getting started. If you're not sure where to begin, check out these easy backyard DIY projects that anyone can do!
Wooden Fence
A wooden fence is ideal for any home for security and privacy reasons. Not only does it provide a physical barrier between your property and the outside world, but it can also be a stylish statement piece. If you're looking to install a wooden fence on your own, there are a few things you should keep in mind.
First, you'll need to measure the length and height of your fence and the width of the posts. This information will help you determine how much lumber you need to purchase. It's also important to note that most fences require at least two rails per section, so factor that into your measurements.
Once you have all the necessary materials, the next step is to mark out where you want your fence to go. Once you've done that, you can start digging the holes for your posts. It's essential to make sure that the holes are at least two feet deep so that the ground will adequately support your fence.
After the holes get dug, you can begin setting the posts and attaching the rails. Depending on the style of fence you're making, you might also need to add pickets or other decorative features. Once all the pieces are in place, you can finish up by adding a layer of paint or stain.
A wooden fence might be easy to perform, but utilizing other materials will require you to step back on your DIY project. Metal fences require expert crafting, making it necessary to partner with a construction firm.
Wooden Deck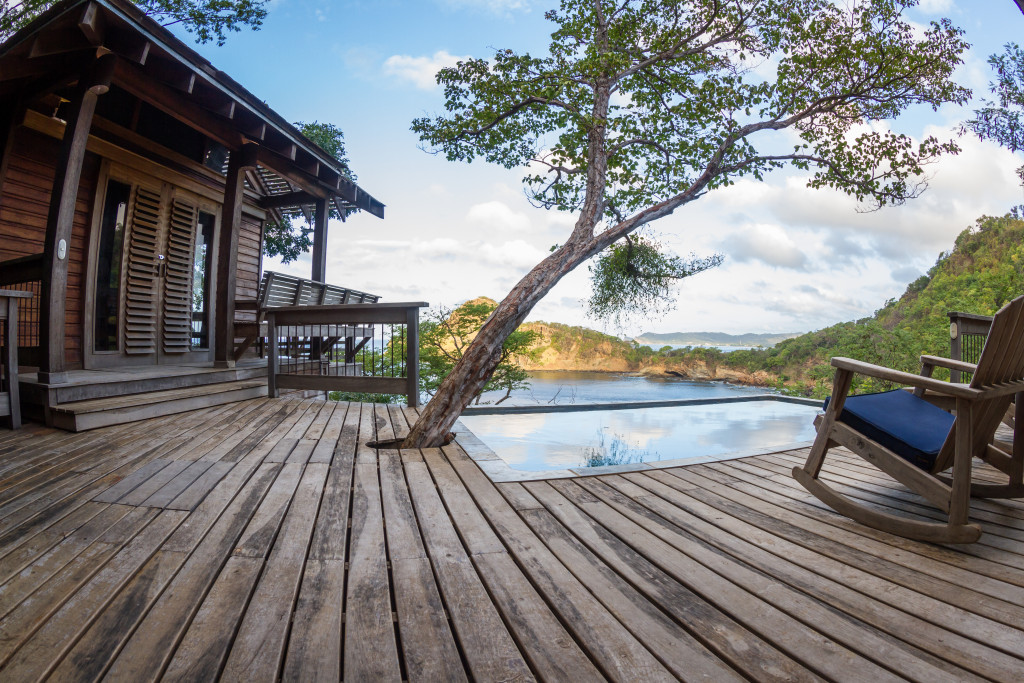 A wooden deck is a great way to increase the value of your home because of its timeless appearance, but it is also a fun and easy DIY project that homeowners can do themselves. A wooden deck can be helpful for various purposes, such as a place to relax, entertain guests, or even cookouts.
You will need to consider a few things before building your deck. The most crucial factor is the size of your yard. You will also need to decide on the height and style of your deck. It is also essential to ensure that you have the proper tools and materials for the job.
Once you have made all of those decisions, you can start marking out the area where you want your deck to go. You will need to excavate the space and level it off before you can start building. It is essential to make sure that the ground is level so that your deck will be stable.
After the excavation is complete, you can start installing the frame of your deck. Once the frame is up, you can add the flooring and other features, such as a railing or stairs. You might also consider adding furniture or decorations to make your new deck more inviting.
Building a wooden deck might seem daunting, but it's pretty simple. However, if you do not have experience in carpentry, it might be best to consult with a professional before getting started.
Garden Shed
Garden sheds are ideal for DIY homeowners as they can also be a storage area for all DIY-related tools and materials. However, you might not have one yet, making it an ideal DIY project to pursue.
Building a garden shed is pretty simple and doesn't require a lot of materials. The first thing you need to do is choose the location for your shed. Once you've done that, you can gather the necessary materials, such as lumber, screws, nails, and a hammer.
The next step is to start building the frame of your shed. You will need to cut the lumber to size and assemble it using screws or nails. After the structure is complete, you can add the roofing and siding. It's also essential to ensure that your shed has proper ventilation to prevent moisture build-up.
Once you've finished putting everything together, you can add some paint or stain to protect the shed from the elements. You might also want to add some shelves or other storage features to help keep everything organized.
Building a garden shed is a great way to increase your home's storage space. It's also a relatively simple project that most people can do without problems.
Conclusion
DIY projects can be fun and exciting, but you must ensure you go through all the basics first. Fortunately, these three projects provide a beginner-friendly task. Remember to take the necessary safety precautions when handling any tools. Also, if you are unsure about something, don't hesitate to ask for help from a professional. Have fun and enjoy your new backyard features!