When you think of your landscape, you might think of the basic components like grass, trees, and shrubs. But there are other things you can add to your landscape that can enhance its beauty and functionality. Here are five things you might not have considered adding to your outdoor space.
1. Pavers
Pavers are a great way to add interest and texture to your landscape. They come in a variety of colors, shapes, and sizes, so you can create a unique look for your home. Pavers can also be used for pathways, patios, or even driveways.
For example, you could use pavers to create a winding pathway through your garden. Or, you could use them to build a patio where you can relax and enjoy the outdoors. You could even use them to create a new driveway.
Regardless of how you use them, pavers are a great way to add personality to your landscape. Just make sure to choose a color and style that complement your home's existing architecture.
2. Retaining Walls
Retaining walls are a great way to add dimension to your landscape. They can be used for creating raised planting beds or help control slope erosion. These can be made from various materials, including stone, brick, or concrete blocks.
If you have a sloped yard, retaining walls can make it more usable by creating level areas for gardening or relaxing. They can also be used to create privacy screens or windbreaks. Just make sure to hire experienced retaining wall installers who will be able to properly assess your needs and install your wall correctly.
In addition, be sure to get the appropriate permits from your city or county before beginning any work. This is because retaining walls can impact your home's property line and neighboring properties.
3. Water Features
Water features add a calming element to your landscape. They can be either be simple birdbaths or elaborate ponds with a miniature waterfall. What's important is that you choose a water feature that fits the size and scale of your landscape.
A birdbath might be the perfect addition if you have a small yard. But if you have a large backyard, you might want to consider something like a pond or fountain. Water features can also be used to hide unsightly areas of your landscape or to create privacy screens.
Just make sure to choose a water feature that is easy to maintain. Ponds, for example, will need to be cleaned on a regular basis. But birdbaths only require occasional cleaning and can be easily refilled with fresh water.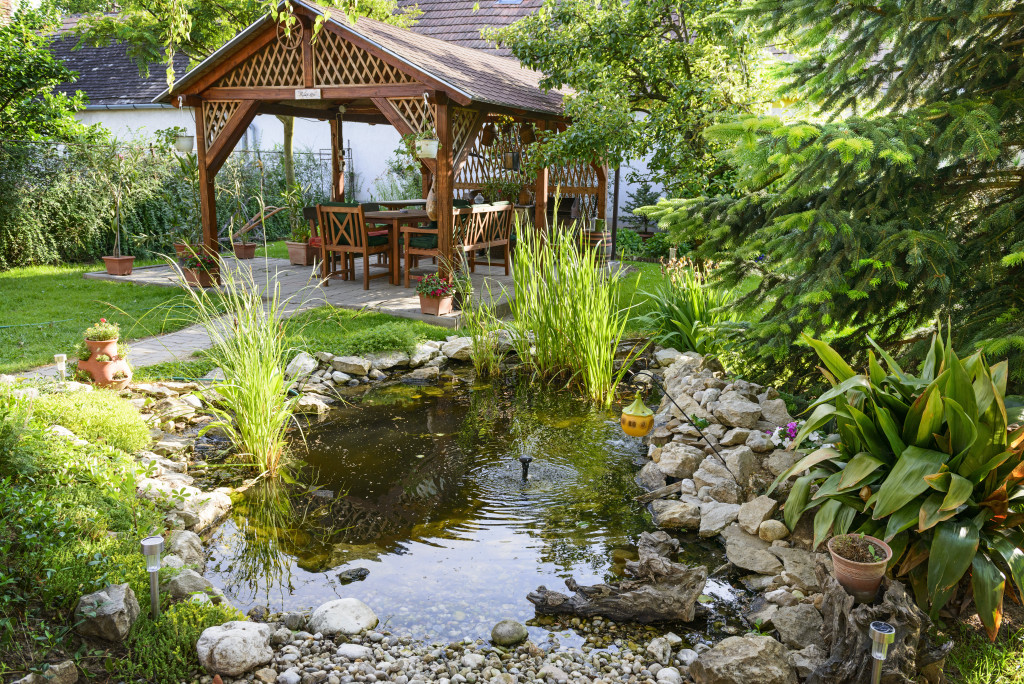 4. Outdoor Lighting
Outdoor lighting is a great way to highlight features in your landscape and extend the use of your outdoor space into the evening hours. Many different types of outdoor lighting are available, including solar lights, LED lights, and low-voltage lights.
Solar lights are a great option if you want to save money on your energy bill. They use the sun's energy to power the lights, so there's no need to worry about running electrical cords through your yard. LED lights are another energy-efficient option. They're available in a variety of colors and can be used to create different effects in your landscape.
Low-voltage lights are a good option for installing permanent lighting in your landscape. These need to be connected to an electrical outlet but use less energy than standard light bulbs.
No matter what type of outdoor lighting you choose, it's important to position the lights properly. This means placing them in areas where they will highlight features in your landscape and not create glare. Be sure to consult with an experienced lighting contractor before beginning any work.
5. Fire Pit
A fire pit is a great way to enjoy your outdoor space in the cooler months. It's also a great gathering place for family and friends. For instance, you can roast marshmallows, make s'mores, or just sit around and enjoy the warmth of the fire.
When choosing a fire pit, be sure to pick one that is the appropriate size for your landscape. You don't want something that's too big or too small. You also need to make sure there's enough clearance around the fire pit. This means keeping it at least 10 feet away from your house, deck, or any other structures.
In addition, be sure to choose a fire pit that is made from durable materials. Stone or brick fire pits are a good option. But if you want something that's less permanent, you can get a portable fire pit that can be moved around as needed.
You can add many things to your landscape to enhance its beauty and functionality. By considering things like pavers, retaining walls, water features, outdoor lighting, and fire pits, you can take your landscape to the next level!