Interior design does not come naturally to everybody. Some might have a knack for it and can instantly recognize what looks good and what will last for a long time, but for many of us, we have to train our eyes to see what is trendy and stylish, and we might need some training to gain an insight into the kind of design decisions that are long-lasting and durable. And because there is a learning curve to interior design, many of us have to learn from our mistakes—mistakes that might be costly and frustrating in the long run.
Thankfully, the internet exists, and we can learn from the missteps of others. If you are in the process of designing and decorating your home, here are some mistakes you might want to avoid.
Not sealing hardwood floors properly
There's a reason why hardwood flooring never goes out of style: It can brighten up the home, it adds warmth and a welcoming atmosphere to the space, and it can stand the test of time, as well as wear and tear. However, when not properly sealed using epoxy floor coating, it can be rough to the feet and more vulnerable to environmental conditions. Untreated floors tend to trap dust and dirt, making them harder to clean. When opting for hardwood floors, make sure to add an extra layer of protection to ensure it lasts and looks good for a long time.
Opting for furniture pieces of similar heights and sizes
One of the key elements of design is the proper scale and proportion. When we opt for furniture pieces of similar heights and sizes, we run the risk of making our space look too small or too big, and it robs the space of depth and interest. The best way to trick the eyes into thinking that the space is properly filled like a well-developed city is by using a combination of furniture pieces that have varying proportions and heights. When you opt for an intriguing blend of shapes and a unique mix of scales, you make your space appear like a gorgeous, well-designed cityscape.
Using dark colors and textures in a small space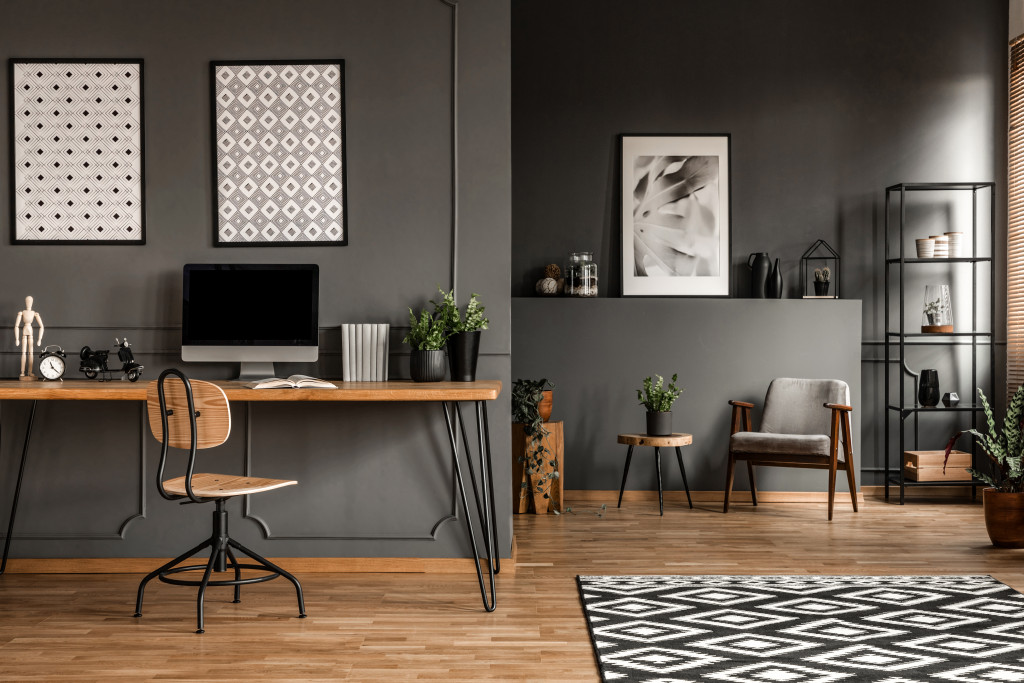 While the most talented interior designers in the world can potentially make this work, the rule of thumb is that darker colors make a space look smaller, while brighter ones can make a room look bigger and more spacious. If your interiors are on the smaller side and lacking in natural light, consider using a brighter, fresher, more neutral color palette. While dark colors and decor might provide drama and interest in a space, they can also make a limited space appear cumbersome and cramped.
When deciding on materials, opt for lighter finishes and fabrics to ensure that the space is lifted and feels bigger than it is. Not to mention, lighter colors and textures also tend to reflect light better, making them perfect for a smaller room.
Overdoing Pinterest trends
If we're being honest, many of us have fallen prey to Pinterest boards that epitomize our dream home. And while there's nothing wrong with finding inspiration from these types of platforms, we run the risk of overdoing the trends we see on there if we're not careful.
The key is to follow one of interior design's most basic principles: balance. If you must follow trends, make sure you don't overwhelm your space by overdoing them. For example, indoor plants are all the rage right now, but you don't need to add potted plants in every corner of your room lest you want to run the risk of making your space look like a jungle.
Moreover, you need to be secure in your own taste. Ask yourself what colors, textiles, styles, shapes, and patterns you like the most and find ways to incorporate your own style into your interiors. Doing this will help ensure that your home doesn't look like a generic copy of an Ikea or Pottery Barn showroom.
Not having multiple sources of light
It may seem like lighting decisions are the more straightforward part of designing, but you need to layer lighting to ensure that it achieves different goals and objectives. Having a plethora of options from dimmers to lamps to pendant lights can help make your space feel warmer and more inviting, and you have the option to choose which lighting will best help achieve your goals for the day.
Designing your interiors can be a fun exercise and it can also build your confidence in your style. Avoid these mistakes to ensure that your home is as gorgeous and functional as it can be.