A home improvement project is an excellent way of customizing your surroundings. Most homeowners use home improvement projects to get a fresh and new look and layout of their homes. First impression matters. Of course, you do not want to live in a surrounding that is not appealing to you or your visitors. Most homeowners focus more on decorating the interior but forgetting the home's exterior.
The first thing that people notice is the exterior of your home. Therefore, whether you want to sell your property or want to give your home a new look, you should find ways to enhance curb appeal.
If you want a fresh exterior of your home, you will be surprised how small renovations may make a big difference to your home without breaking the bank. Below are some ways that can help you enhance your home exterior.
Ways to improve your home exterior
You may not think about your roof if it isn't leaking. However, it is an important part of your home's appearance and appeal. The roof is important for the attractiveness of your home. Roofs can individualize and characterize your home. Simple updates and touches can enhance the appearance of your home. If your house has large exterior trim work, shutters, and lots of windows, you may consider simple roof lines which will help avoid clutter and the busy appearance of your home exterior.
Roofs come in different colors. You may opt for an updated color that will add visual appeal and style. It will also ensure that the dull color of the home exterior does not seem bland.
The front door is the centerpiece of any home. You don't have to replace your door to improve its appearance. You can apply a fresh coat of paint to the door. Color may give a pleasing balance. You may also change the door handle to something modern. However, if you want to replace the door, you should consider one that has a few more windows on it. This will beautify your home with natural lighting.
You may consider hanging a lantern by the front door. This will not only illuminate the entry but will also add appeal to your entryway.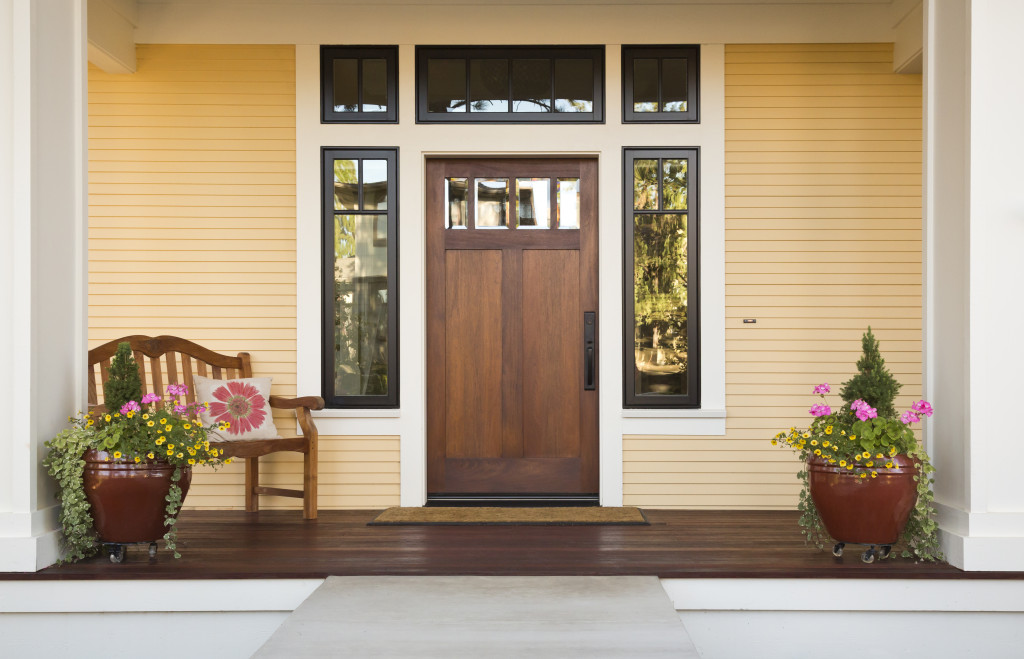 Having a variety of lighting options will improve the ambiance of your home. Although it is only visible at night, it may change the appearance of your home. It may also highlight the architecture of your home and create a welcoming glow.
You may also consider adding light around your house's number sign. This will be beneficial to guests and visitors. However, do not put a fully lit number sign since it may not be very welcoming.
Consider decorative concrete overlay
Your driveway is one of the things that visitors notice first about your home exterior. An ugly, cracked, and old driveway makes even the beautiful landscaping appear shabby. A decorative concrete overlay will set your home apart and improve the curb appeal. It can be customized to any look that you want.
Decorative concrete overlay has unlimited options of design, textures, design, and pattern. With the right option, it can create a new, fresh and authentic look. Now that there are many decorative concrete overlay or resurfacing products readily available in the market, it's time you consider increasing your curb appeal. You should consider contacting experts for advice and guidance on the product you should choose for your home.
The mailbox in the front of your home may appear unappealing if it looks old and beat-up. You may consider doing a makeover by creating a flower garden and landscaping timbers around the mailbox. This will create natural beauty. When creating the new garden, choose flowers that have a bold color.
However, if you feel like your mailbox does not fit with the rest of your exterior or is just old, you may consider ditching the mailbox for one that has a modern design. When installing a new mailbox, you may opt to set it up on your front door than against the street. You can add aesthetics by adding flowers around the bottom or on top of the post to improve its outlook.
If you don't have window boxes, then it's time to consider installing the boxes. Window boxes may create a charm to your home. You may use different flowers in your window boxes to help your house stand out and add color to it.
You should also consider cleaning the windows to make your home shine. This will let natural light into your home and sparkle to the passersby. You may also use a hose to spray outside windows to remove dirt and cobwebs.
Now that you're ready to change the way your home looks, these tips will help you upgrade the curb appeal of your home. Take time to look at your home exterior to see what needs improvement or change, then use these tips to get the look that you want.