Whether you're looking to make your home more aesthetically pleasing or want to increase your home's value, there are plenty of ways to upgrade it. However, safety should always be a top priority when it comes to home upgrades. Here are some smart home upgrades that will add both beauty and protection to your house.
1. Upgrade Your Doors and Windows
Your doors and windows are the first line of defense against intruders. Replacing old wooden doors and windows with steel or aluminum doors can increase your home's security and give it a modern look. Steel doors come in various sizes, designs, and finishes that can match any exterior style.
It's important to note that these doors require regular maintenance, such as lubrication for the locks and hinges, so be sure to keep up with them! In addition, make sure to purchase windows with double-paned glass for added insulation and security.
Aluminum-clad wood windows are also a great option, as they offer both durability and energy efficiency. Just choose ones that are certified to ensure they're up-to-date with safety standards.
2. Add Sidings
Sidings are a great way to make your home look more attractive and protect it from harsh weather elements. Vinyl siding is one of the most popular options due to its longevity and energy efficiency. It requires minimal maintenance and can withstand extreme temperatures without fading or cracking.
For installation, be sure to hire expert siding installers. They will ensure that the sidings are properly installed and sealed, maximizing their efficiency and security. This is important because improperly installed sidings can weaken the overall protection of your home.
Additionally, brick or stone sidings are also great options if you're looking for a more natural look. They require minimal maintenance and can last for decades if installed correctly.
3. Install Surveillance Cameras
Another way to add security and aesthetics is by installing surveillance cameras around your house. A visible camera system will deter potential intruders while adding an extra layer of security for you and your family.
Not only do cameras provide an extra sense of safety, but they also allow you to monitor what's happening outside of your home from anywhere in the world using an app on your phone or computer. This can come in handy if you're away on vacation or just want some peace of mind while at work.
Moreover, modern surveillance cameras come in a variety of designs and colors to match your home's exterior. Just make sure to purchase wireless and waterproof ones for optimal performance.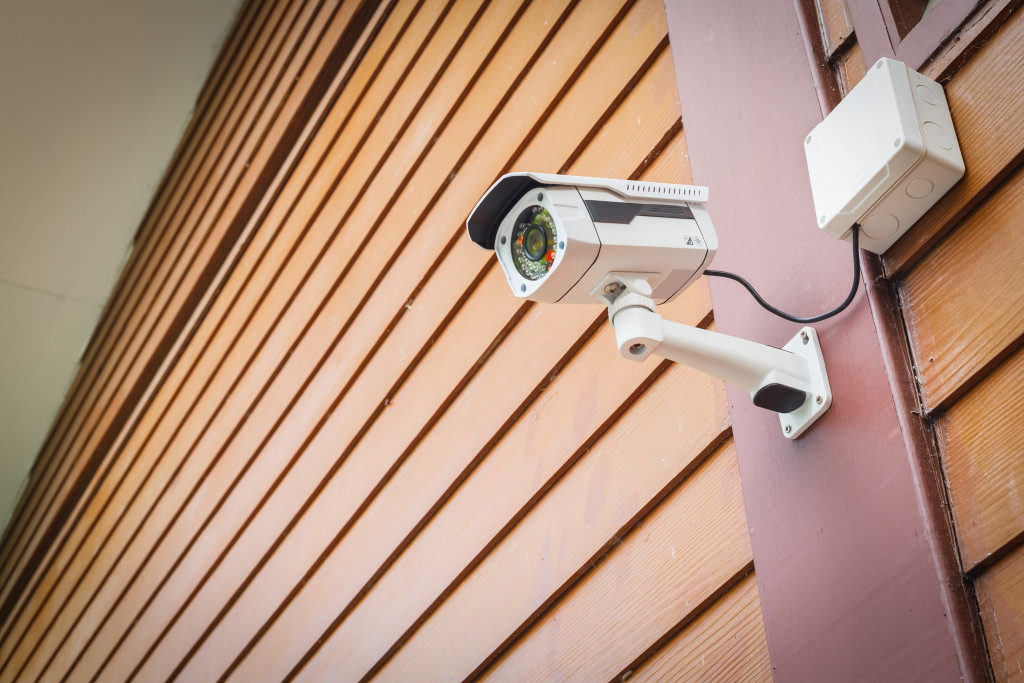 4. Replace Old Lighting Fixtures With LEDs
Old lighting fixtures can make any room look dated, so consider upgrading them with LED lights instead. LEDs last longer than traditional bulbs and are also energy efficient, saving you money on electricity bills each month.
LEDs come in various styles and colors, so you can choose one that fits perfectly within the aesthetic of your home! For starters, consider replacing your outdoor lighting with motion-activated LEDs for added security. These lights will turn on when they detect movement outside, illuminating any potential intruders and alerting you of their presence.
Furthermore, you can also install dimmer switches and sensors that will automatically adjust the lighting based on the time of day or night, giving your home a more modern feel.
5. Paint The Walls And Ceilings
Painting is one of the easiest ways to give any room a new look without breaking the bank. Choosing light colors such as pastels or neutrals for walls and ceilings can open up a space, while darker tones give rooms warmth and coziness.
Additionally, painting is a great way to hide minor imperfections, such as dents or scratches on walls — so don't be afraid to get creative! It can also help cover up any outdated wallpaper or wallpapers with a more modern look.
Also, if you're feeling really ambitious, consider adding unique patterns or designs to your walls and ceilings! This can add an interesting visual element to any room in your home without breaking the bank.
6. Install Smart Home Devices
Smart devices are becoming increasingly popular among homeowners because they offer convenience along with added security features like motion sensors or remote access control systems.
Installing smart devices like doorbells or thermostats gives you greater control over who has access to your home while giving it an updated look at the same time! Additionally, these devices can help you save energy and money in the long run.
Finally, if you're looking for an extra layer of protection, consider getting a smart home security system that will detect any suspicious activity in your home. This can be especially helpful when you're not around to monitor it yourself.
Upgrading your home is a great way to increase its value while adding some much-needed protection against potential intruders at the same time. From replacing outdated lighting fixtures with LED lights to installing surveillance cameras around the house — there are plenty of ways to make sure both aesthetics and safety go hand in hand when upgrading your beloved abode! Whether you choose one upgrade or all six — investing in these projects will surely pay off in terms of both looks and peace of mind!