When it comes to backyard design, aesthetics are critical. A well-designed backyard can be a beautiful addition to any home and provide many benefits for homeowners. Some of the benefits of having a well-designed backyard include:
Increased property values – A recent study by The Landscape Institute found that well-designed backyards can increase property values by up to 15%.
Enhanced quality of life – A well-designed backyard can give homeowners a space to relax and enjoy their outdoor space. This can lead to a better quality of life overall.
Improved mental health – According to a study by the University of Exeter, spending time in nature can improve mental health and wellbeing. Backyards with natural elements such as gardens or ponds can be especially beneficial.
There are many other benefits to having a well-designed backyard, including added privacy, enhanced security, and improved energy efficiency. If you're thinking about redesigning your backyard, prioritize aesthetics and functionality to get the most out of your space. Here are a few critical areas to prioritize.
Decking
Before the outdoor area becomes a place for family and friends to gather, it must have a comfortable and functional space for everyone. This situation is where decking comes in handy. A beautiful backyard deck can provide the perfect space for hosting parties, relaxing after a long day, or simply enjoying the outdoors. Consider using sustainable options such as bamboo or recycled plastic when choosing materials for your deck. These materials are durable and eco-friendly. If you're looking for added privacy, opt for a deck with built-in benches or planters. These features can also double as storage spaces.
Fortunately, the deck will not require too much maintenance once installed. You may need to occasionally power wash or stain the deck to keep it looking its best.
Gardens
Gardens are a staple in many backyard designs. They provide a pop of color, a place to grow fresh produce, and a space for relaxation. When designing your garden, consider using native plants. These plants are adapted to the local climate and require less water and maintenance than non-native species. If you're short on space, consider vertical gardening. This gardening allows you to grow plants on walls or fences, maximizing your space.
However, it will be necessary for people to consider the effort required to take care of the garden. For instance, you will need to regularly water plants, pull weeds, and apply fertilizer. The type of garden you choose will determine the amount of maintenance required. Fortunately, gardening has plenty of benefits, including stress relief and improved mental health. If you do not have time to maintain the garden, you can hire a gardener to help you with your efforts.
Outdoor Lighting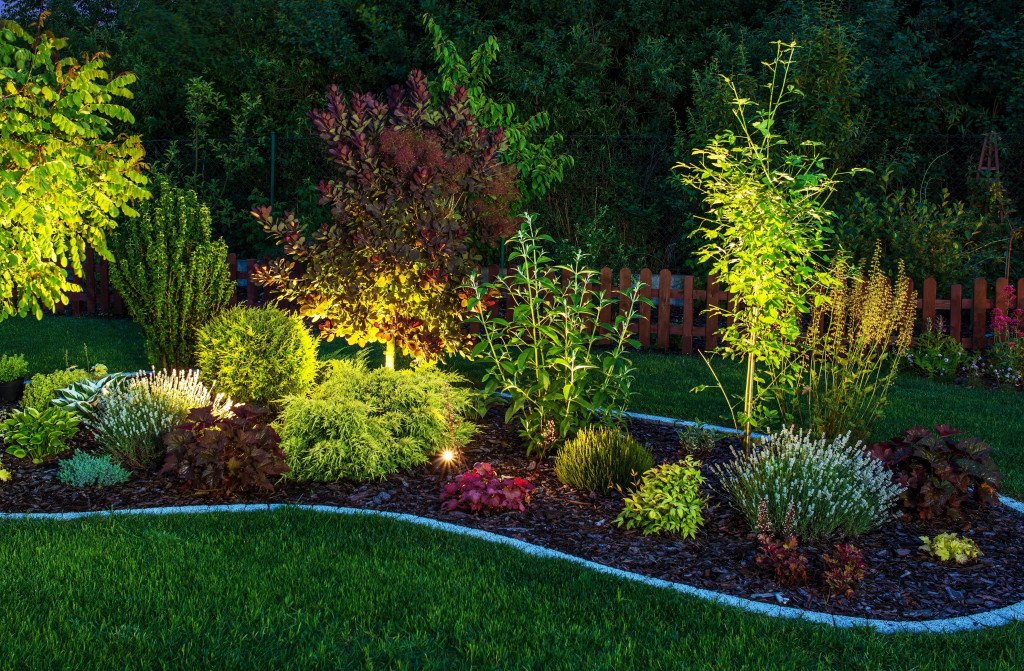 Outdoor lighting is an essential element in backyard design. It can provide safety, security, and ambiance. When choosing outdoor lighting, consider using solar-powered lights. These lights are environmentally friendly and cost-effective. LED lights are also good because they use less energy than traditional incandescent bulbs. If you're looking for added security, consider installing motion-sensor lights. These lights will turn on when someone enters your property, deterring potential burglars.
When planning your outdoor lighting, be sure to consider the placement of your lights. Path lights are a good option for lighting up walkways and stairs. Spotlights can highlight features in your backyards, such as gardens or sculptures. String lights are perfect for creating an inviting atmosphere for entertaining.
Lighting can affect people's mood, making aesthetic lighting a necessary thing to consider. For your backyard, it can be the most significant factor to making the area look good.
Fence
Having a fence in the backyard is essential for both privacy and security reasons. A fence can help keep unwanted guests out of your property and provide security for you and your family. When choosing a wall, be sure to consider the style and materials.
Wooden fences are popular because they are affordable and can get painted or stained to match your home's exterior. However, they require regular maintenance, such as painting or staining, to keep them looking their best.
Metal fences are a good option for those who want a low-maintenance fence. Metal fences come in various styles and colors and are resistant to weathering and rusting. PVC fencing is also a good option for those who want a stylish fence that is also low-maintenance. PVC fencing is available in many colors and styles and does not corrode or rust.
However, composite fencing is a more expensive option, but it requires little to no maintenance and is available in many styles. Composite fence panel designs are more aesthetic than wood and metal alternatives, making them ideal choices for backyard enhancements.
When installing your fence, bury the posts at least 2 feet deep. It will help prevent the wall from being toppled over in high winds. Also, check your local building codes to ensure that your fence meets all the requirements.
Conclusion
Designing the backyard of your dreams doesn't have to be complicated. With a bit of planning and effort, you can create an outdoor space that is both beautiful and functional. Be sure to consider your family's needs when designing the backyard and choose features that will accommodate everyone. Also, don't forget to consider the amount of maintenance required for the features you select. With a little bit of work, you can create a backyard that will be the envy of your neighborhood.