People choose to sell their houses and move to another for various reasons. Some plans on moving to another country or state, while others wish to either downsize or upsize. According to statistics, the number of houses sold in 2021 is 6.9 million units. Whatever one's reasons are for selling, there is one thing for sure. Anyone selling their property would want to get the best price possible.
If you are also planning on selling your house this year, know that there are different ways you can increase the resale value of your property. Depending on your budget and willingness to do some work, some projects can help you achieve your goal.
Say Goodbye to Your Outdated Floors
One of the first things potential buyers notice when they step into your house is the flooring. If you have outdated flooring, it would be a turn-off for some. This is because it would make them think that the rest of your house has also not been updated.
Investing in new floors is a great way to increase the resale value of your house. You can choose from different materials. Make sure to do your research before making a decision.
Laminate floors are a lot more durable and can withstand heavy traffic. It is also easier to maintain since it does not require special cleaning solutions. However, some people do not like the way it feels since it is not as warm as wood floors.
Hardwood floors are a classic choice that can give your house an elegant and timeless look. According to reports, up to 54% of buyers want hardwood floors on their next home. They are willing to pay an extra $2,080 for houses with hardwood floors. While this is one of your best options due to its high return on investment (ROI), you will need to pay for the upfront costs to have these installed in your home.
Updating your floors can make a huge difference in the resale value of your house. This is because it can make your home more appealing to potential buyers. This is why it helps to do your research before choosing a company that offers high-quality flooring supplies, installation, and maintenance. Find one that offers free consultation and gives customers a 100% customer satisfaction guarantee to get the best experience.
Invest in High-Quality Paint Job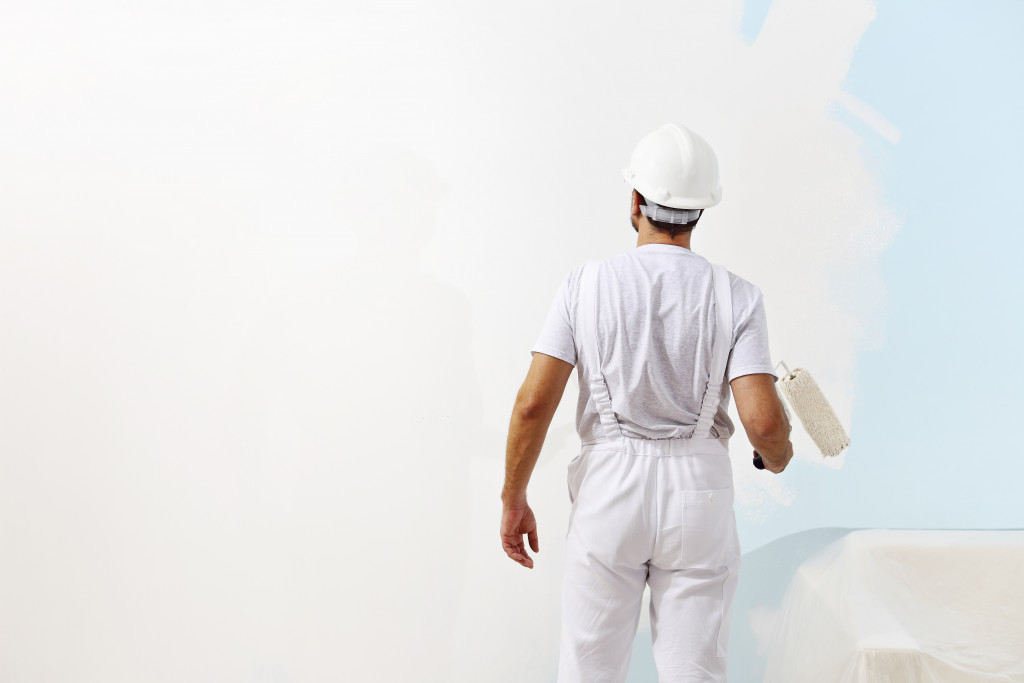 Giving your home a fresh coat of paint is one of the most cost-effective ways to increase the resale value of your property. According to an expert, a fresh paint job can deliver 100% ROI. This can also increase the resale value of your home by five percent.
The color of your exterior can have a significant impact as well. You will want to choose a color that can make your house stand out without being too overbearing. To be safe, choose white, tan, or gray when painting your exteriors. These colors can also help make your home look more spacious than it really is.
As for your interiors, consider light cream colors. These can make your rooms look more airy and spacious. It is also a good idea to paint your ceiling white as this can help create an illusion of height.
Make sure you use high-quality paint when redecorating your home. This is because low-quality paint can chip and fade quickly. When this happens, it would be a turn-off for potential buyers.
You will also need to consider the quality of the paint job. Some people would instead do this themselves to save on costs. But if you want a high-quality paint job, you must hire a professional. They will use the best materials and tools to protect your home properly against potential damage.
Convert or Create a Home Office
The pandemic has changed the way we work and forced many people to start working from home. Experts estimate that 70% of workers will work remotely five days a week by 2025. This means having a dedicated space where potential buyers can work from home can help increase its resale value.
This does not necessarily mean you must build an entire room from scratch. You can easily convert an unused space in your house into a home office. According to experts, this can help increase the resale value of your home by up to 10%.
If you do not have an extra room, you can create a home office by using a spare corner in your house. All you need is a desk, a comfortable chair, and enough lighting. You might also want to consider adding storage space to declutter your workspace. You can create a space that potential buyers will love by staging your home office properly.
As you begin to prepare your home for sale, it's important to remember that small changes can significantly impact the final resale value. With the help of these three projects, you can increase the value of your home and make it more appealing to homebuyers.