A home is a significant investment. So whether you're buying a fixer-upper or building your dream home from scratch, it's essential to consider your investment's long-term value. One way to increase the value of your home is to remodel it. Here are five reasons why you should consider remodeling your home.
Resale Value
Home prices have increased this year because of the housing shortage. However, if you want to improve your home value even further, consider removing your home.
If you're considering selling your home in the future, remodeling can increase the resale value, and experts suggest this even if you're not planning on selling anytime soon, as remodeling can still add to the equity of your home.
Attain the Home of Your Dreams
Remodeling allows you to create the home of your dreams, customizing it to fit your specific needs and wants. If you love your location but not your home, remodeling may be better than moving. It's also much better than living in a home that doesn't fit your vision or meet your needs.
Save Money
While remodeling can be a significant upfront investment, it can save you money in the long run. For example, updating an old HVAC system can save money on monthly energy bills. Or, adding insulation to an attic can help keep your home cooler in the summer and warmer in the winter, saving you money on energy bills.
Quality of Life
A well-designed home can improve your quality of life. For example, a kitchen designed for entertaining will make hosting dinner parties much easier (and more enjoyable). Or, a bathroom designed with relaxation in mind will be a welcome respite at the end of a long day.
Be Eco-friendly
Remodeling provides an opportunity to make your home more eco-friendly and energy efficient. For example, you could install solar panels or low-flow toilets. Not only is this good for the environment, but it's also good for your wallet. These types of upgrades can save you money on utility bills each month.
Remodeling your home can be a big decision, but it has many benefits. Now that you know these benefits, it's time that you remodel your home today. If you don't know where to start, consider these options.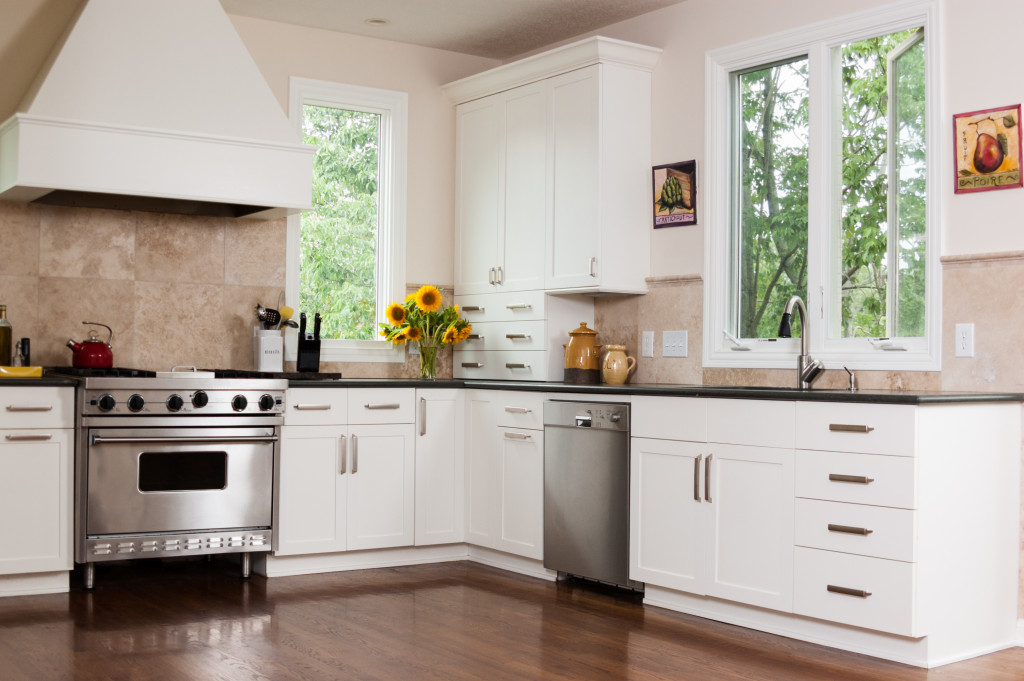 Kitchen
The kitchen is one of the most fundamental rooms of the house. It's estimated that a single kitchen remodel can  increase your ROI by a staggering 80% ! It's a cheap option but great for inflating your home's value. Here are some great remodeling options for your kitchen.
Commercial Appliances
There is a growing trend in using commercial-grade appliances in the home. Not only do they look sleek, but they also save time and energy in the kitchen. You should look out for brands like Wolf, Sub-Zero, and Viking.
Open Layout
A popular remodeling option is to remove walls to create an open layout with your dining room or living room. This can increase the value of your home as it creates a modern aesthetic and makes entertaining easier.
Updated Cabinets and Countertops
When entering your kitchen, your cabinets and countertops are one of the first things people see. Consider updating these with new materials such as granite or high-end wood. It will give your kitchen a fresh, updated look while increasing its value.
Remodeling your kitchen is a tedious task. However, you can always hire a  professional kitchen remodeling service  for it. This service can help with design, construction, and installation to make the process easier for you.
Bathroom
Remodeling your bathroom not only increases the  value of your home by up to 60% , but it can also improve the practicality and comfort of your home. Here are some options to consider for your bathroom remodel:
Walk-in shower:  A walk-in shower can add luxury and modernity to your bathroom while also increasing accessibility.
Double vanity:  Adding a double vanity can not only be convenient for multiple people using the bathroom, but it can also add aesthetic appeal.
Heated floors:  Adding heated floors in your bathroom is comfortable and can save energy in the long run.
Outdoor Living Space
Creating an outdoor living space is a great way to improve your home's value and enjoy the warmer months. Some options to consider are
Outdoor kitchen:  An outdoor kitchen allows you to entertain guests while enjoying the beauty of nature.
Patio or deck:  A patio or balcony provides a designated area for relaxation and entertainment outside.
Fire pit:  A fire pit can create a cozy atmosphere for gatherings with friends and family.
Home remodeling is something that should be carefully considered. However, the benefits of a remodel, from practical upgrades to increasing your home's value, make it a worthwhile investment. So start thinking about how you can improve your living space today. Happy remodeling!